Now that our sweetness is a year old I thought I'd update on some of her favorite toys, books, and non-toys. as well as things I love that have entertained her the longest.
Toys:
(all toys available for purchase online are linked as such. Those that are vintage suggestions are given for where to locate.)
Her little tykes vintage school bus and fire truck. Along with the people. (many choices for these on ebay)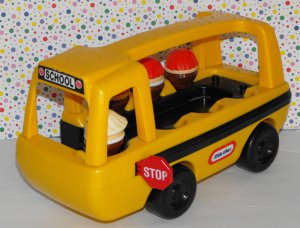 Her fisher price shape sorter

fisher price stacking nesting bowls
Fisher-Price Crib Soother Aquarium
(no longer available in stores, check thrift stores and consignment sales. Ours was 3.00 at a thrift store and just needed more water added.)
Cloud B Gentle Giraffe On the Go(aka Lionel)
A crocheted Kitty made by a dear friend
And octopus made by same friend
Mortimer the moose is great for the car
Non Toys:
A ceramic coffee mug
An oral medicine syringe
a spoon (plastic or metal preferably metal so it clanks when she stirs it in the cup)
my stylus from my tablet(5.00 at walgreens) with the rubber tip removed.
An ink pen with a tight cap. (they fit in the holes in the bottom of her people so she likes to put it in the hole over and over again.)
Coat hangers (just plastic clothes hangers) of any size and color are old favorites
A large cooking spoon or ladle if I'm cooking
A wallet with "money" (aka bank deposit slips and recipets) and a photo of my family as well as cards to take in and out
plastic cups
straws
hairbrush
the reusable fabric pads for nursing
a plastic whipped cream container
the changing mat from her diaper bag (aka her magic carpet)
Books:
These are our current go- to toys and such. Some even have come with us traveling. Lionel has been to New York, Georgia, and California with us, flown on planes and rode in the train, subway, and bus.
I hope to replace some of the non vintage plastic toys with wood as we continue on our parenting adventure and have more littles. But if you've shopped for those you know they can be quite pricey. So we'll be aquiring them slowly so not to break the bank. I just can't eliminate the vintage stuff as it's been through 6+ kids all ready and still going strong. And they are so easy to clean! A little dish soap and water and good as new.